Skip to Content
Gallery of Vinyl Graphics in Manhattan, NY
Make a Statement With Vinyl Graphics by Eagle Master Signs
Vinyl is an incredibly versatile material used to make just about everything from plumbing supplies to clothes. That's why it is a popular choice used for sign graphics, and Eagle Master Signs in New York City offers our customers great styles, products, and applications to choose from.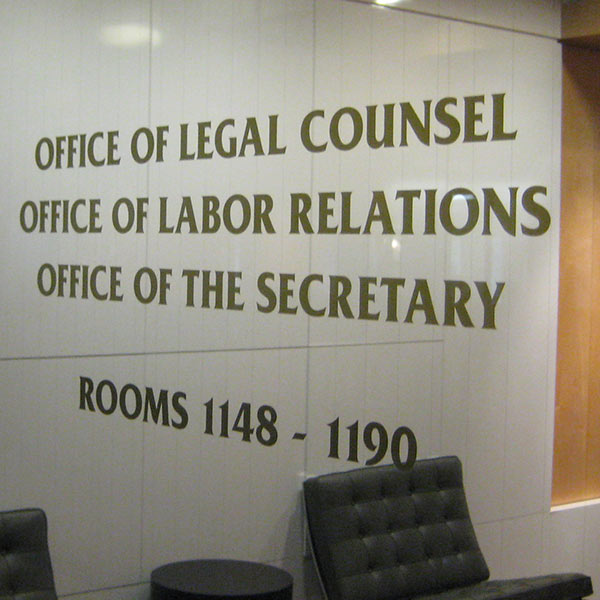 Frosting Window Graphics
Frosting is a simple and tasteful way to create compelling graphics on glass areas, such as windows and doors. These are very popular in business settings, especially in large commercial buildings with many tenants. Set your business apart from your neighbors or coworkers with frosting for text or images.
Vinyl Graphics
Vinyl graphics are an adhesive product that can be directly applied to various surfaces, including floors, windows, mirrors, walls, elevator doors and walls, and vehicles. It's a fantastic choice for marketing signs and logo applications for many reasons, including:
Durability
Vinyl can withstand outdoor conditions and different types of weather. If your sign or display is going to be outside, vinyl is a perfect choice.
Affordability
When you consider how long vinyl material lasts, vinyl is one of the best bangs for your buck while still offering a high-end look.
Easy maintenance
Vinyl cleans as easy as any other plastic material providing a simple way to keep your graphics looking fresh and new day after day.
Customization
Our equipment allows us to customize vinyl graphics to match your branding and color scheme and recreate your logo or other images.
Distraction Markers for Privacy & Safety
Distraction markers are a method of adding safety and privacy to glass windows and doorways in commercial office spaces while maintaining a spacious feel and allowing plenty of light to pass through. Using frosting to create patterns and markings bonded to the glass, we can create a customized pattern or design that will meet the needs of your business space.
We've Manufactured Over 650,000 Signs and Counting Around NYC