Skip to Content
Architectural and Wayfinding Signage in Manhattan, NY
Leading Architectural and Wayfinding Signage Experts
Effective wayfinding signage enables visitors to maneuver around corporate spaces, find their way around a hospital, navigate the hallways of residential and hotel buildings, or explore a boutique. Eagle Master Signs designs and manufactures and aesthetically pleasing architectural wayfinding signage for buildings and spaces across all industries. Our compelling signage gives your target audience direction and makes it easy to navigate your business facility.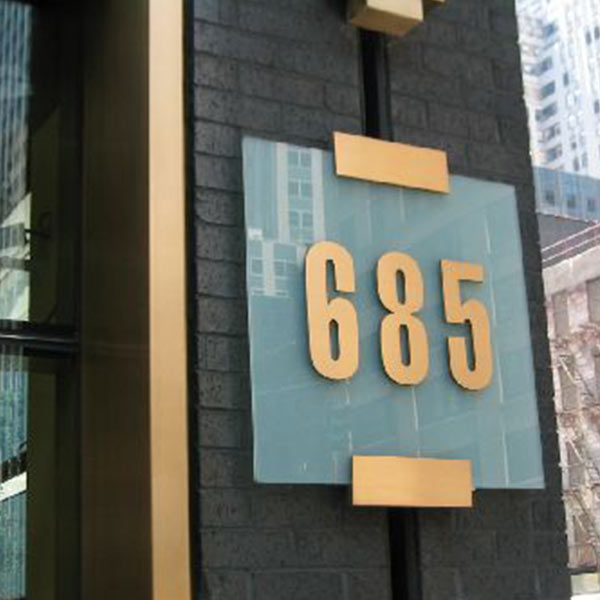 The Functionality of Wayfinding
Wayfinding signage is an excellent way to label interior and exterior spaces for easy navigation. Providing good direction can be the difference between a visitor appreciating the space that they are in or being confused and leaving, as appropriate signage creates a convenient, welcoming environment. Wayfinding also boosts the accessibility of your building, as ADA-compliant signage allows disabled visitors to have equal access and a clear understanding of a building's regulations or instructions.
The Five Principles of Wayfinding
There are five core principles that must be exercised to create practical wayfinding:
Creating an identity at the location
Using neighborhood landmarks to provide orientation cues
Creating well-structured paths
Dividing regions and neighborhoods into differing visual character
Using adequate and limited navigation choices to ensure the wayfinding is straightforward and easily understood
Wayfinding Solutions
Eagle Master Signs' wayfinding solutions are backed by more than three decades of experience designing and creating interactive and intuitive wayfinding solutions across many industries, such as corporate financial institutes, educational buildings, healthcare facilities, malls, and more. Our team of experts has the necessary knowledge and skill to create commercial signage that guides visitors through large or small-scale establishments without confusion or frustration.
The Benefits of Wayfinding Signage Design
Wayfinding provides an organic guest and employee experience and yields a positive return on investment. Wayfinding signage reduces stress, accommodates visitors of all types, and elevates your brand's story and identity in an attractive, integrated way. Wayfinding also promotes a safer environment, as it gives clear directions to exits in case of an emergency.
The Benefits of Architectural Directories
A successful directory will silently control and organize the flow of foot traffic. Buildings equipped with directories provide visitors with helpful guidance upon entry, which enables them to locate the person or place they are looking for without confusion or questions.
An architectural directory enhances your building's environment and accessibility, allowing guests to find their way and discover other features within your facility that they otherwise may not have known about. Directories promote seamless interaction between a visitor and a business or facility.
Architectural Directory Services
Whether a person is looking for an exit, a restroom, the cafeteria, or the CEO's office, our professional directories can share as little or as much information as you'd like with your visitors. Options include but are not limited to:
Floor and building directories
Office directories
Employee directories
Floor directions
Electronic LED signage
Illuminated directories
The Importance of Design
Aesthetically pleasing directories impact visitors' perception of their environment and their desire to explore the area or return. Wayfinding and directories possess a communication design that connects guests to an establishment using visual character and distinct identity. It's very important that the information on directories be neat, meaning that all the lettering matches, all the indents and spacings match, and that there are no misalignments. Additionally, all custom signs within a business or facility must be coordinated to create a cohesive look that represents the brand.
Our Strategy Behind Developing Exceptional Wayfinding
Eagle Master Signs' strategy is to brand your wayfinding or directory to promote a sense of belonging and identity using intuitive, consistent design. We strive to make your brand something that connects visitors and makes them feel engaged and understood by combining technical knowledge, innovation, and creativity to make your wayfinding signage or directory vibrant and compelling.
Choose Eagle Master Signs for Your Wayfinding or Directory
Since the 1980s, we have been Manhattan's premier signage company, with more than 1 million signs around the city and counting. We have designed and manufactured some of New York City's most recognized signage. Our work is fully customized to each client, and our innovative team guides new clients throughout the entire signage process.
Contact Our Professionals
If you need wayfinding signage or an architectural directory for your building, Eagle Master Signs is the right choice for you. We have a product and creative solution to match even the most complex needs. Contact us to schedule a consultation or to receive a quote.
We've Manufactured Over 650,000 Signs and Counting Around NYC