Skip to Content
ADA & Building Code Sign Photo Gallery
ADA Compliant and Building Code Signage
Residential and commercial buildings and office spaces are required to comply with the Americans with Disabilities Act (ADA) to ensure there is no discrimination or disadvantages to people based on disability. At Eagle Master Signs in New York City, we will ensure that your building meets all national and local laws for full compliance. While no building owner or landlord intentionally omits signs or warnings, being completely aware of your responsibility will ease any potential issues and make your property safer for all.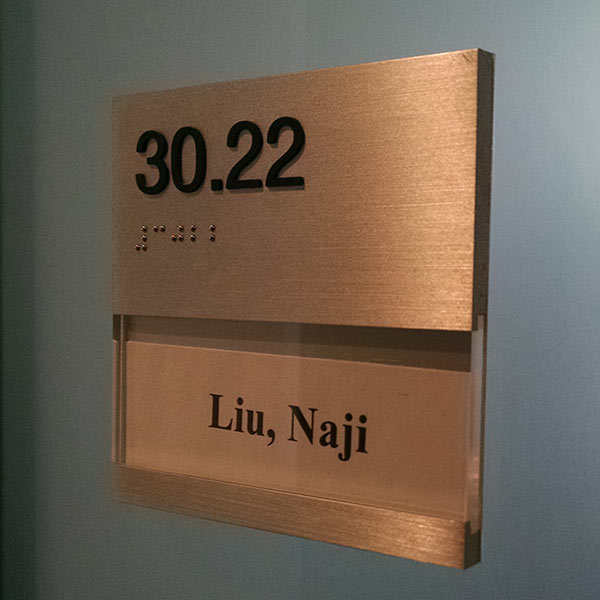 Americans With Disabilities Act Signage
Signs following the guidelines set forth by the ADA serve a number of purposes allowing those with disabilities to read signs and take note of direction. Just posting signs isn't enough. The ADA requires signs to include raised lettering and braille for the visually impaired. Our sign production can produce various techniques to meet this requirement, including engraved signs, illuminated signs, printed or Raster® Braille to be ADA compliant. Strict guidelines define the proper placement for such signs, which must be mounted at a height between four and five feet off grade. Signs should be included to identify each room in a building, such as:
Restrooms
Mechanical rooms
Stairs
Suite numbers
Hotel rooms
Classrooms
Conference rooms
And more
NYC Local and Fire Law Requirements
As a building owner, ensuring the safety of the occupants should be at the top of the priority list. Our team is committed to advising property owners and providing the signage required to meet all of the local New York City building code laws and FDNY guidelines for safe operation and guiding tenants in case of an emergency. We manufacture:
Evacuation signs
Visible signage with clear direction informs tenants what actions to take even before an emergency arises, such as using the stairs instead of the elevator in case of fire.
Sprinkler & standpipe markings
Alert occupants and FDNY of the placement and positioning of indoor sprinkler system heads and standpipes.
Photoluminescent markings
If the power goes out and there is no daylight, glow-in-the-dark exit paths guide the public to stairwells for a safe exit.
Occupancy signs
These are required in elevators and event spaces to ensure safety and avoid overcrowding.
Fire safety signs
Fire safety tips and noting where emergency response supplies are stored are critical in ensuring a safe environment.
Get All the Legally Required Signage for Your Building
With Eagle Master Signs, getting all of your ADA compliance and building code signage is simple. We are knowledgeable in all of the products your particular building needs and proper placement to meet local laws. Ensure your tenants, employees, and customers are safe and secure with compliant building signage by our team.
We've Manufactured Over 650,000 Signs and Counting Around NYC